Autopay Enrollment
With AutoPay, you can arrange to have your payment automatically deducted on the same day every month. AutoPay helps keep you current and less stressed about making sure you made a payment, and signing up is quick and easy. Click here for autopay to enroll in AutoPay.
If you'd rather not sign up online, you can print and mail in the form located herefor autopays (Opens a new window) .
If you would like to cancel AutoPay and return to making payments manually each month, please click herefor autopays to cancel Autopay.
Please note that you must cancel AutoPay at least three business days before your next scheduled payment in order to stop your next payment from being deducted.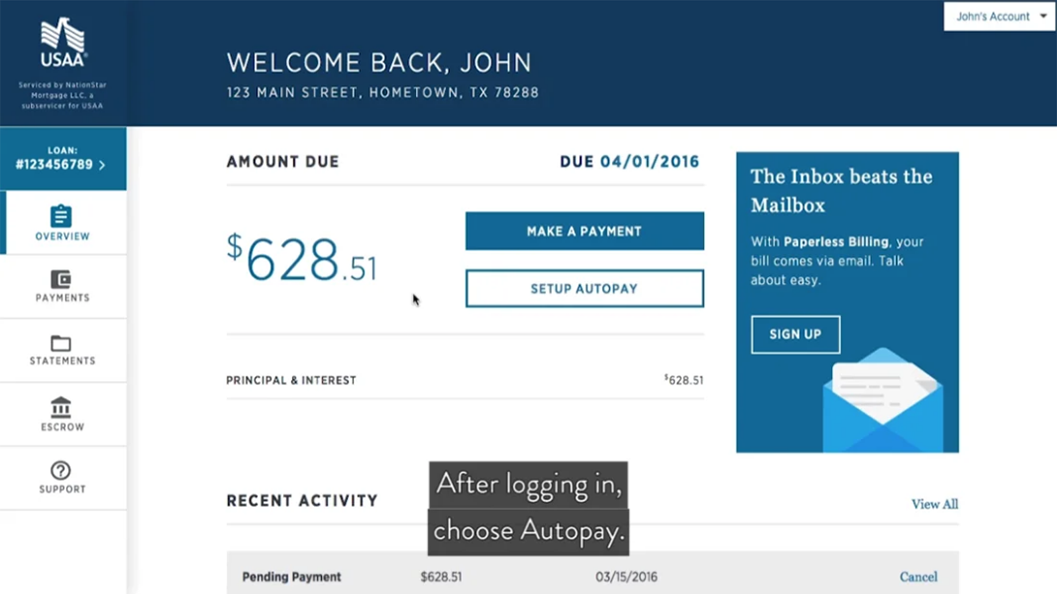 ---
AutoPay Changes
WILL MY AUTOPAY AMOUNT EVER CHANGE?
Things like a change in your rate, an escrow shortage or a loan modification can alter your payment amount. When this happens, we'll make the change automatically. You'll receive a letter notifying you about the changes to your account and we will update the payment amount before the first automatic payment is made with the new amount. We'll also send you an alert in the message center.
How do I change my AutoPay settings?
If you decide you want to change the date, amount, or bank account you selected for your AutoPay, it's easy. Just click hereto change autopay settings to cancel your existing AutoPay and set up a new one with the settings you want. Your new settings will take effect immediately.
---
Holidays
If your payment arrives on one of the following holidays, we'll post it on your account the next day. However, it will be credited for the day you made it.
New Year's Day
Martin Luther King Jr.'s Birthday
Presidents' Day
Memorial Day
Independence Day
Labor Day
Columbus Day
Veterans Day
Thanksgiving Day
Christmas Day
---
Note: The form/s on this page require Adobe Reader software to view and print. You can get the software for free hereGet Adobe Reader.